---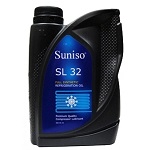 The synthetic refrigeration lubricant Suniso SL 32 consists of polyester and other additives. It provides lubricity, stability and corrosion protection.
These lubricants are miscible in new refrigerants such as R-134a at extremely low temperatures.
They have been designed for use in refrigeration and air conditioning systems charged with ozone friendly refrigerants.